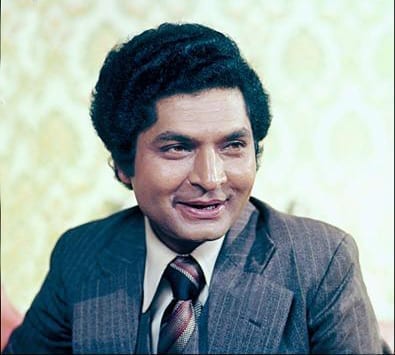 Asrani – 01 January 1941
Asrani is a veteran Indian Hindi film actor who is active in Bollywood industry since past five decades. His real name is Govardhan Asrani and he was born in a Hindu-Sindhi family. However he is known to the audience with his last name only and is popular for his character roles as well as comedy roles in number of Hindi movies. He has also starred as hero in films during his initial days but later gained remarkable success as a supporting character and comedian.
An extremely talented actor whose family had migrated from Pakistan at the time of partition, did not have interest in his family business and preferred to choose acting as his career.
Asrani holds a unique distinction of being a single actor to have appeared as a character actor/comedian in most number of Hindi films in a decade – 101 in 1970's and 107 in 1980's.
Asrani also tried his luck in film direction as well and has so far directed 6 films since 1974.
---
Nana Patekar – 01 January 1941
Vishwanath Patekar alies Nana Patekar was a renowned Marathi actor before he who shot to fame in Hindi Cinema in early 90's with his charismatically dashing role of a rebel social reformer in film 'Krantiveer'. This was followed by a similar character role in 'Tiranga' and with these two films Nana established himself as a front line artist in Hindi Film industry.
His acting career started in late 80's when he acted in movies like 'Gaman' and 'Mohre' in 1978 and 1987 respectively. He won a National Films Award for Best Supporting Actor for his portrayal of a psychic villain in film 'Parinda' in 1989.
He directed a film 'Prahar' in which he played an army office himself. For this role he especially underwent a military training and was then awarded honorary Captain rank for his efforts.
Nana Patekar did not confine himself in a stereotype roles. He also appeared in a comedy role in recent movies like 'Welcome' where he played an underworld don who aspires to be a film star.
---
Sonali Bendre – 01 January 1975
Sonali Bendre is born in a Marathi family and joined Bollywood while starting her career as a model. She studied at various places including Mumbai, Bangalore and Dehradun. She has worked in some superhit films like 'Sarfarosh' and 'Hum Sath Sath Hai'.
Sonali made a guest appearance in a dance song in superhit south movie 'Bombay' by Maniratnam. By todays speaking norms the song could be called an item number.
Her performance in a movie 'Diljale' was appreciated by critics who hailed her as a star in making. Sonali has gained joined a league of those few heroins who have worked opposite all four Khan's of Hindi Film industry (Salman, Amir, Shahrukh and Saif).
Sonali has started a new innings on small screen by judging few tv reality shows. Shows such as Kya Masti Kya Dhoom…! and Indian Idol, India's Got Talent, Hindustan Ke Hunarbaaz and India's Best Dramebaaz are the names of the shows that she judged.
---
Vidya Balan – 01 January 1978
Bollywood is an industry of male stars. Hundreds of new girls make debut and disappear in number of films every year. Very few female actresses have been able to create a space and name of them in this male dominated industry and Vidya Balan is one of them.
Born on 1st January 1978, Vidya has won one National Film Award, five Filmfare Awards, and five Screen Awards, and won the prestigious Padma Shri award by the Government of India for her contribution to the film industry.
Vidya is known to play a protagonist role and has done number of variety of roles. In her each movie she presents herself in an altogether different character. That is a uniqueness of her personality.
Since very early age Vidya wanted to make career in acting and films. She got her first break in television in 1995 in a popular TV show 'Hum Paanch'. However she had to wait too long before her cinema career actually begun. She got her first major role in a Bengali film titled 'Bhalo Theko' in 2003. Her debut in Hindi film was in 2005 with 'Parineeta' where she starred opposite Saif Ali Khan and Sanjay Dutt. This was the beginning of her successful career and she went on to do a comedy film 'Lage Raho Munna Bhai' in 2006 which was a big success.
Vidya changed her image entirely with her bold and classic film 'Dirty Picture' in which she portrayed a life of south hot actress Silk Smita. The film itself proved to be a milestone in the history of Hindi film industry.
---
Sayli Bhagat – 01 January 1984
Born on 1st January 1984, Sayali Bhagat is a Gujarati girl born at Nashik in Maharashtra. Sayali is a former beauty queen who competed in Femina Miss India 2004 and won the title of Femina Miss India World. She completed her education from Mumbai university and started her modelling career after which like other models, she joined Hindi film industry.
Her first film was with Emraan Hashmi and the name of the film was 'The Train: Some Lines Should Never Be Crossed'. It was in the year 2007. Unfortunately the movie did not do well on box office.
After that Sayali starred in handful of Bollywood movies which were not successful either. Sayali got an opportunity to work with few of the big names in the industry. Few of her films include 'Halla Bol', 'Paying Guests', 'Jail', 'Naughty @ 40', etc. She made her television appearance in an MTV show s well.
In December 2013 Sayali married to a Delhi based businessman.
Facebook Comments