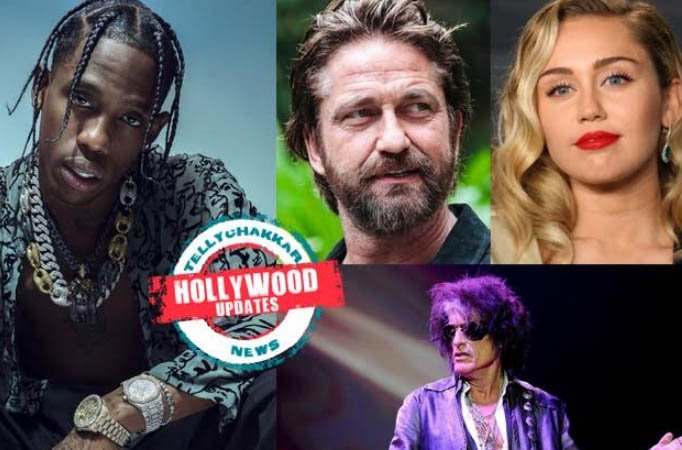 News
MUMBAI: Here we bring some updates for all the Hollywood film-buffs. Take a look.
Cheryl shares behind the scenes glimpse of her music video
Singer Cheryl has shared a behind the scene photo from her music video after claiming her face has "changed completely" since having son Bear.
She has made a musical comeback with her first new single in four years, and now she has delighted fans with a behind the scenes glimpse of her filming the music video for her new track Love Made Me Do It, reported by media publications.
The former Girls Aloud star, 35, shared the photograph with her 3.7 million Instagram followers as she sizzled in a billowing black gown, teamed with the plaited hairstyle.
Looking directly at the camera, the songstress gives a pout while holding onto the edges of her frock.
With her dark brunette locks slicked partly up in a bold style and the rest put in petite ponytails, the former X Factor judge opted for a bronzed makeup look to accentuate her features.
Last week, Cheryl baffled fans after debuting a dramatically different appearance, as she admitted her face has "completely changed" since giving birth to her son Bear, 19 months ago.
"My whole body, even my face, everything's changed since Bear was born," she said.
However, she said she doesn't mind that her son, who she shares with Liam Payne, 25, caused her to look to change because she feels better now.
Michael C. Hall not 'all the way' heterosexual
Actor Michael C. Hall does not consider himself "all the way heterosexual".
Discussing his previous homosexual roles as David in Six Feet Under, Hall told The Daily Beast, "I think there's a spectrum. I am on it. I'm heterosexual. But if there was a percentage, I would say I was not all the way heterosexual.
"I think plaing the Emcee required me to fling a bunch of doors wide open because that character I imagined as pansexual. Yeah, like I made out with Michael Stuhlbarg every night doing that show. I think I have always leaned into any fluidity in terms of my sexuality."
But the Dexter star said he had never had a sexual relationship with another man, though the death of his father when he was just 11-years-old has made him "crave emotional intimacy" with a guy, reported by media publications.
He said, "I've never had an intimate relationship with a man. I think, maybe because of an absent father, there has definitely been a craving for an emotional intimacy with a man.
"I don't mean to suggest that an emotional relationship between a father and son is any way homoerotic. I mean an emotional intimacy or connection that at least in the milieu I grew up in was considered fey. I had an appetite to have emotional connections with men beyond beer, sports, and fist-pumping that were considered 'gay.'"
Travis Scott was nervous in the delivery room
Rapper Travis Scott says he was so "nervous and scared" in the delivery room when his partner and reality TV star Kylie Jenner gave birth to their daughter Stormi.
Scott spoke about it on The Ellen DeGeneres Show, reported by media publications.
He said, "That is a fact, yeah. She held it down because it was so scary. She walked me through the whole process. There's this thing called the placenta, that I have just been hearing about? Oh my god. So, I was fearful of all that.
"But I cut the umbilical cord. But, yeah, (Kris) held it down. Mama KJ (Kylie Jenner), she's the best… Going into it, I was nervous and scared, because we are both young. But, you know, when you first hold a baby in your arms, it's uncontrollable. I never thought I could just love something so hard, you know? It's crazy."
Kylie had earlier said she would love another child.
Neil Young slams Trump over California wildfire
Canadian rock legend Neil Young has criticized US President Donald Trump for his "gross mismanagement" comment regarding the California wildfire.
The wildfire is currently raging in northern and southern California and has claimed Young's home, reported by media publications.
He broke the news with a post on the Neil Young Archives, in which he blasted Trump's reluctance to act on climate change and for the president's steadfast denial of scientific evidence.
Young wrote, "We are vulnerable because of climate change; the extreme weather events and our extended drought is part of it."
Los Angeles County firefighters attack flames approaching the Salvation Army camps in Malibu Creek State Park during the Woolsey Fire on 10 November near Malibu.
Local residents "are up against something bigger than we have ever seen," he continued.
"It's too big for some to see at all. Firefighters have never seen anything like this in their lives. I have heard that said countless times in the past two days, and I have lost my home before to a California fire, now another."
Young, a Canadian citizen can't vote in US elections, but he remains a tireless campaigner on environmental issues. He has maintained the years-long rift with Trump.
The rocker's post references Trump's controversial tweet which blamed "gross mismanagement" for the devastating wildfire, which has displaced hundreds of thousands of Californians.
Trump's comment has been condemned by a wave of professionals from the music community, including Katy Perry, Lady Gaga, John Legend, and entrepreneur Scooter Braun.
Young concluded his open letter by saying, "Imagine a leader who defies science, saying these solutions shouldn't be part of his decision-making on our behalf. Imagine a leader who cares more for his own, convenient option than he does for the people he leads. Imagine an unfit leader. Now imagine a fit one."
Mylie Cyrus, Gerard Butler lose the house in California wildfire
Hollywood celebrities Miley Cyrus and Gerard Butler have completely lost their homes in the raging California wildfire, which has left filmmaker Guillermo del Toro's home partially damaged.
Cyrus took to Twitter on Sunday to spare a moment to share prayers for the victims.
"Completely devastated by the fires affecting my community. I am one of the lucky ones. My animals and love of my life made it out safely and that's all that matters right now.
"My house no longer stands but the memories shared with family and friends stand strong. I am grateful for all I have left. Sending so much love and gratitude to the firefighters and LA country Sheriff's department," Cyrus wrote.
The singer urged people to donate resources and supplies to firefighters as it will help them in combating the fire.
"All I have left. Sending so much love and gratitude to the firefighters and LA country Sheriff's department… Donate $, time, supplies. I love you more than ever," Cyrus added.
Butler said it is a "heartbreaking time across California".
"Returned to my house in Malibu after evacuating. Heartbreaking time across California. Inspired as ever by the courage, spirit, and sacrifice of firefighters," Butler tweeted.
Giving an update about his Bleak House, filmmaker Guillermo del said that his house was affected by the minor smoke damage.
"Toro Bleak House (I am told this morning) seems to be fine. Just minor smoke damage. I am aware of how much this fire has taken, how much has been lost – this is humbling and a blessing."
The wildfire has been spreading through northern California since last week, displacing several people and animals.
Ezra Miller pretends to be happy
Actor Ezra Miller says he is not as happy as he pretends to be.
Miller will soon be back as Credence Barebone, a young introvert man who is also an Obscurus, in Fantastic Beasts: The Crimes of Grindelwald. The Warner Bros Pictures project will open in India on 16 November.
Asked about being extrovert in real life and how he relates to the character, Miller said, "You have to pretend you are extrovert when you do interviews, especially if you have introvert tendencies. You have to perform. It is hard to judge a book even by the first 75 pages.
"There's a part of me which identity with Credence, with certain elements of his journey on different points are applied on different landscapes of my life…
"I am not as happy as I try to pretend to be all the time," added the actor during a roundtable discussion here while promoting the project.
Fantastic Beasts: The Crimes of Grindelwald is the second in the planned five movies spin-off franchise from the Harry Potter films. The first partFantastic Beasts and Where to Find Them came out in 2016.
Fantastic Beasts takes forward the story, bringing a darker and complex view of the world and sets the foundation of the events leading to the universe of the popular Harry Potter world.
"There are big reveals in the film," Miller teased.
Talking about the role, he said, "It is about trying to figure out who you are and where you stand. I think our characters (Credence and Claudia Kim's Nagini) have particularly tough time with that.
"They might be little way behind when it comes to figuring out ways to figure things out. We are coming from rejection and obscurity to try and make sense of who we are and where we stand and our current situation."
Aerosmith's Joe Perry rushed to the hospital
Rock band Aerosmith's guitarist Joe Perry was rushed to hospital after performing with Billy Joel at the Madison Square Garden here.
The 68-year-old guitarist was performing on Saturday night. He remained in the hospital on Sunday, according to a representative, where he is "alert and responsive", reported by media publications.
Following a guest performance during Billy Joel's show last night at Madison Square Garden, Joe Perry experienced shortness of breath and was treated backstage by paramedics who gave the guitarist oxygen and used a tracheal tube to clear his airway before taking him to a hospital," said a statement from Perry's representative.
"This morning Perry remains in the hospital where he is alert and responsive. The Aerosmith guitarist will be unable to appear today at Rock And Roll Fantasy Camp in Florida and apologizes to those attending. Perry is expected to return to the road later this month," the statement added.
According to a leading media, Perry had just finished a guest spot performing Walk this way with Joel, went back to his dressing room and collapsed.
According to the report, paramedics rushed to the scene and worked on Perry for approximately 40 minutes in his dressing room before transporting him to the hospital. Joel was still onstage and unaware of Perry's condition.
Perry collapsed onstage in New York in 2016 after performing with his side group Hollywood Vampires, which also features Alice Cooper and Johnny Depp.
While initial reports said he had suffered a cardiac arrest, the cause was later specified as exhaustion and dehydration.
Aerosmith announced a 2019 Las Vegas residency called Deuces Are Wild that is scheduled to run from April through July.
(Source: IANS)
---
Credits : All the content and images copyrights are owned by - www.TellyChakkar.com