Powerful and influential dialogues by leading actor in Hindi films have played an pivotal role in defining an onscreen image of an actor and ultimately the success of the film. Megastar Amitabh Bachchan has been probably the only star in Hindi films whose one liner dialogues have gained so much popularity and build his onscreen image of 'Angry young Man'. We have compiled a list of 10 of his best quotes which are carved on hearts and minds of audiences all through these years.
"Jab tak baithne ko na kaha jaaye sharafat se khade raho. Yeh police station hai tumhare baap ka ghar nahi"
Film – Zanjeer (1973)
In his very first super hit movie as a solo hero, Amitabh displayed this unforgettable aggression in front of veteran like Pran. This initiated the making of first Angry Young Man in Hindi cinema.
"Main aaj bhi phenke hue paise nahin uthata"
Film – Deewar (1975)
These lines connected straight to the hearts of millions of audiences from middle and lower layer of society. Scriptwriter Salim-Javed wrote these lines which represent sheer simplicity but equally uncompromising attitude of a young man who completely denies to do something which is against his dignity. Deewar picture became one of the most popular films of Amitabh mainly because of his dialogues in the film.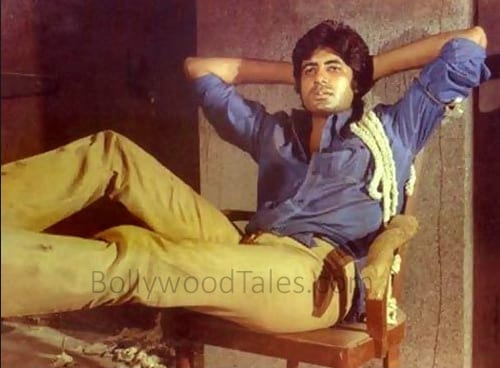 "Tum log mujhe dhund rahe ho aur main tumhara yaha intezaar kar raha hun"
Film – Deewar (1975)
Simply fearless! While local goons are searching him to take revenge, this superhero of our time is waiting for them in their very den. Unsurprisingly this power packed cracking dialogues is followed by a one sided physical encounter in which the he single handedly demolishes number of men in no time. Deewar picture formed Amitabh's image as an angry young man in the industry.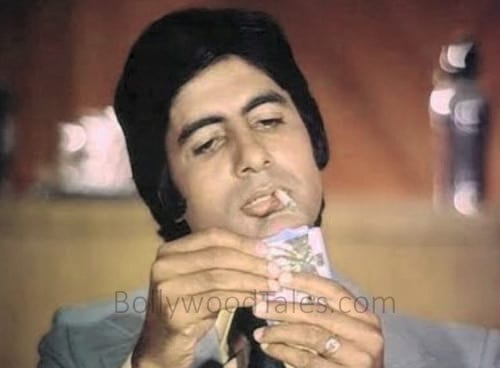 "Don ka intezar toh gyaarah mulkon ki police kar rahi hai. Lekin Soniya, ek baat samajhlo Don ko pakadna mushkil hi nahi, namumkin hai"
Film – Don (1978)
This makes him international. With this stylish dialogue he boosts of his unconquerable might and confidence of supremacy. Amitabh's cool way of shrugging off the danger was the highlight of the moment. Film 'Don' was another milestone on the way of his Angry Young Man journey.
"Aaj aapke paas aapki saari daulat sahi lekin aapse bada garib maine zindagi main nahi dekha."
Film – Trisul (1978)
In this scene Bachchan is confronting Sanjeev Kumar. The one liner explosive comes out when Bachchan finds that he is the real son of Sanjeev Kumar. Amitabh returns him all his property and scornfully reminds him that he (Sanjeev Kumar) is a poor man despite owning the huge wealth.
Voice modulation and timely pauses by Amitabh are the highlights of the scene. His dialogue delivery and execution of this sensitive act is simply fabulous.
"Hum bhi woh hai jo kabhi kisi ke peeche khade nahi hote. Jahan khade ho jaate hain, line wahin se shuru hoti hai"
Film – Kaalia ( 1981)
This evergreen quote is popular even in todays generation. The arrogance and attitude this line carries is parallel to none. Amitabh uttered this quote in sheer cool manner and thrilled audience with his is unique dashing charm.
"Bachpan se hai allah ka haath aur allah rakha hai apne saath. Baazu pe hai saat sau chiyasi ka billa, bees number ki beedi peeta hoon, kaam karta hoon coolie ka aur naam hai Iqbal. Jiske sar pe haath pade bache na uska ek bhi baal"
Film – Coolie (1983)
Kadar Khan wrote these pompous lines to introduce the hero if common man working as a coolie again showing off character and uncompromising attitude. Amitabh carried this character with equal splendor and ease. The film was a blockbuster and more remembered due to the near fatal injury to him.
"Jo mard hota hai usse dard nahi hota"
Film – Mard (1985)
Manmohan Desai can be quoted as the king of drama in Hindi cinema. His portrayal of a father scribing 'Mard' on the chest of his newborn infant is simply incomparable. This boy when grows up becomes a real man and takes revenge of all the evils. This one liner was and is popular among all the newly puberty hit kids and men who thinks they are 'real' men!
"Rishte mein toh hum tumhare baap hote hain, naam hai Shahenshah."
Film – Shahenshah (1988)
Credit goes to Tinu Anand who introduced this Indian Dark Knight who is a nightmare of criminals and scoundrels. The emphatic thrust this one liner carries is enough to show them their real place.
"Vijay Dinanath Chauhan; poora naam, baap ka naam Dinanth Chauhan, maa ka naam Suhasini Chauhan, gaon Mandwa, umar chhattis saal, nau mahina, aath din, yeh solvaan ghanta chal rahela hai… haain?"
Film – Agneepath (1990)
How impressive an introduction can be? This famous narration describing his identity can be spoken only by Amitabh himself. No other can match the style, depth and voice modulation performed by Amitabh which won him a national award.
Lastly, before we conclude here is yet another gem from the megastar –
"Bbuddah Hoga Terra Baap"
Film – Bbuddah Hoga Terra Baap (2011)
In this a high dose masala entertainment action -comedy film, Amitabh has played a role of contract killer. This is his famous dialogue from the film that shows his age defying attitude.
Do you remember any of Amitabh Bachchan's popular dialogues which can be included in this list? Please share in the comment box below and we will be glad to publish it here.
Facebook Comments